Boston Mills/Brandywine/Alpine Valley Ski Patrol
October 8 – 14, 2018
Looking to buy some "new-to-you" gear… or get rid of last year's model skis or snowboard? Check out the Ski Patrol Swap Tent where the BMBWAV Ski Patrol help those who want to buy or sell used gear at the Open House! This is the largest ski & snowboard swap in Ohio and primary fundraiser for Boston Mills / Brandywine / Alpine Valley Ski Patrol.
SWAP TENT OPEN
Friday, October 12 – 10am – 8pm
Saturday, October 13 –10am -6pm
Sunday, October 14 – 10am -6pm
ITEM DROP OFF
Monday, October 8 – 12pm – 9pm
Tuesday, October 9 – 10am – 9pm
Wednesday, October 10 – 10am – 9pm
Thursday, October 11 – 10am – 5pm
Friday, October 12 – 10am – 8pm
Saturday, October 13 – 10am – 6pm
Interested in selling your items or seeing the Swap in action? Watch this video to learn more.
Click Here for more information and to view a .pdf of the 2018 Ski Swap flyer.
Click here to view our Facebook Event Page.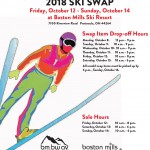 Click on the .jpg image to the left to download and share the 2018 Ski Swap Flyer with friends and family on Facebook, Instagram and Twitter.
Check this site to see if your items sold: https://sites.google.com/bmbwavsp.org/bmbwavskiswap/home
Be sure to check the Boston Mills/Brandywine Ski Resorts website for more information about Open House.
Still have questions about the Ski Swap? Please enter your information below and someone from our Ski Swap team will be happy to assist you.